25 September 2020
PREVIOUS POST
NEXT POST
Self Awareness and Mindfulness to Embrace Others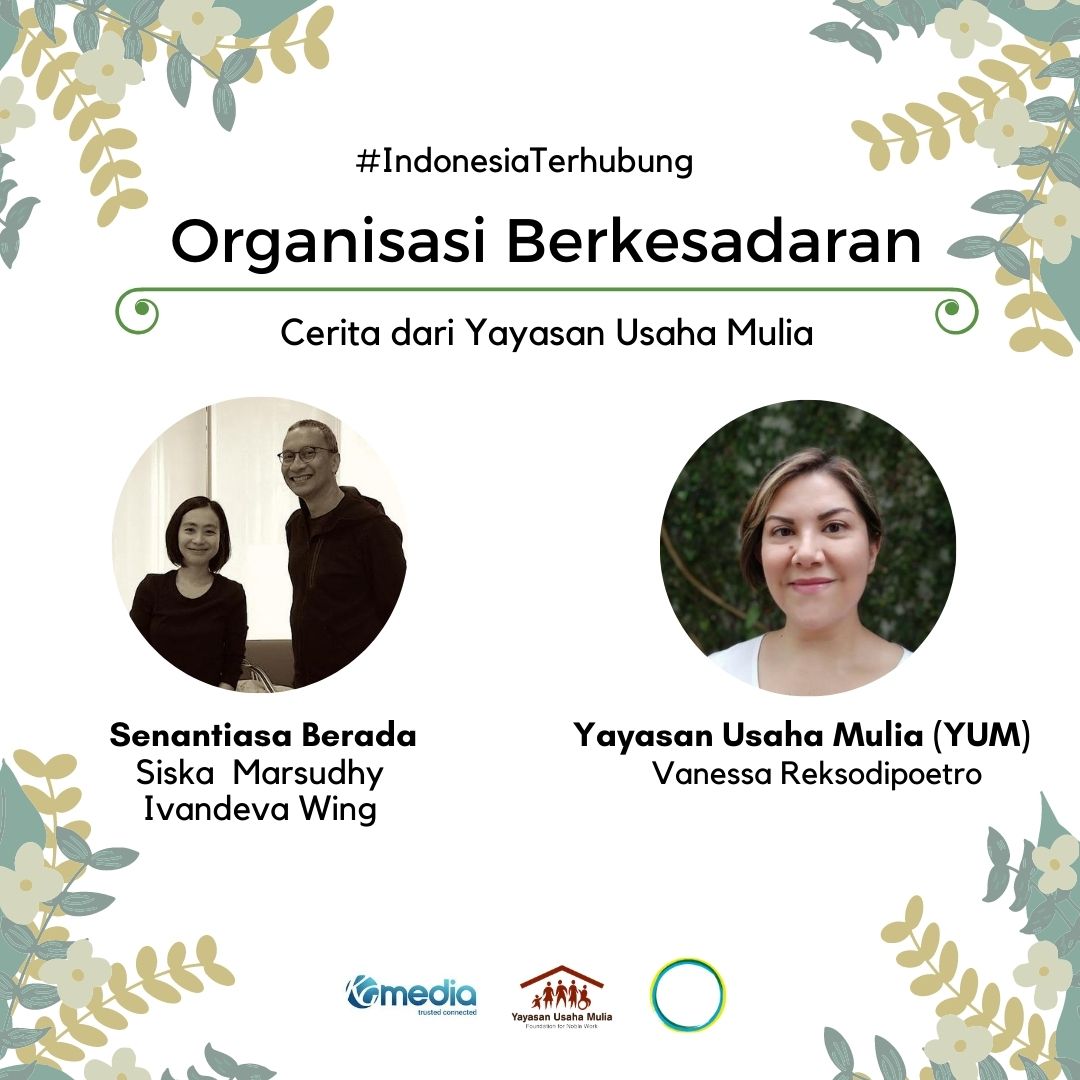 "Being aware means having sensitivity towards others completely," said Ivandeva Irwantoro on a webinar session with Yayasan Usaha Mulia (YUM) on Saturday (8/8). Ivan was one of the speakers and co-founder of Senantiasa Berada, along with Siska Marsudhy, who led a meditation session with the participants. The event was co-hosted by Kompas Gramedia through their online series "Indonesia Terhubung".
Through the theme "Organisasi Berkesadaran" or Conscious Organisation, Senantiasa Berada and YUM conveyed theories and stories surrounding the theme, guided by YUM's experience in developing a social business. Vanessa Reksodipoetro, Executive Director of YUM, shared the background and advantages of the Organic Farm as YUM's social business established in 2009.
Vanessa said, "YUM is currently a foundation but we also want to focus on financial sustainability, not only for us but also for the community. Our aim with this social business is to create a profitable business that not only embraces and empowers farmers through organic farming, but will benefit the thousands of people in the surrounding community through various social programs run by YUM."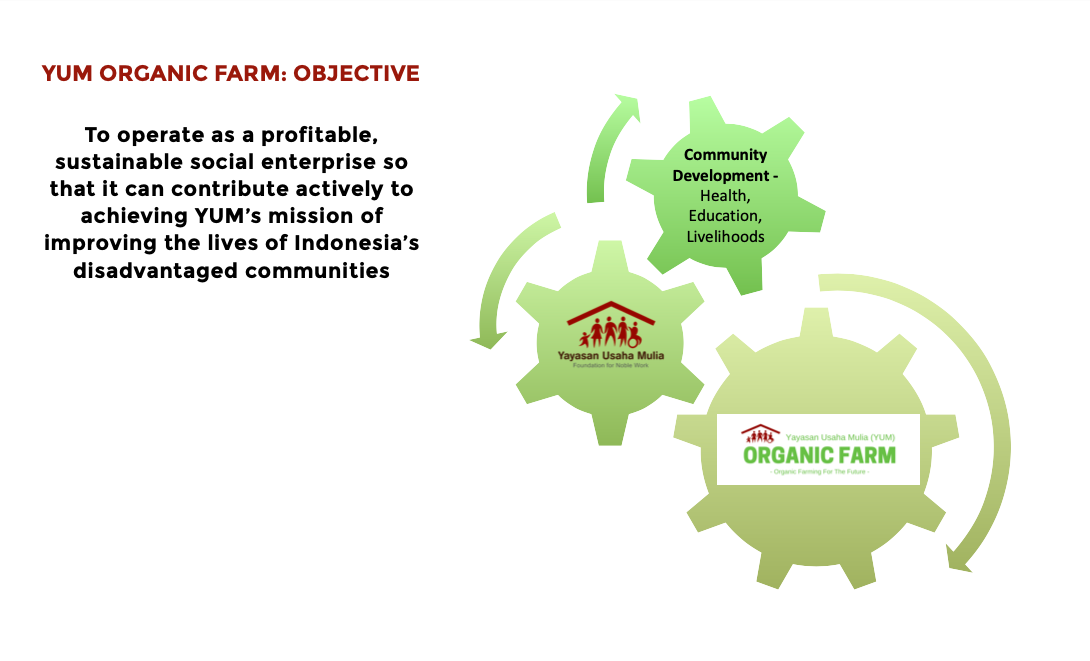 Vanessa also stated that in her management process for the Organic Farm, she attached great importance to the ecosystem that exists between each stakeholder: farmers, consumers, staff, general public and nature. The organic farming system was introduced to the farming community in Cipanas, West Java, as a way to provide an alternative eco-friendly farming solution and to achieve other existing goals such as sustainability that benefits all parties.
Besides that, the strong desire to empower local farmers was also considered important. "We think it is very important to continue to embrace the farmers together to understand the true meaning of purpose. Our goals and theirs must be matched so we can do everything whole-heartedly," said Vanessa.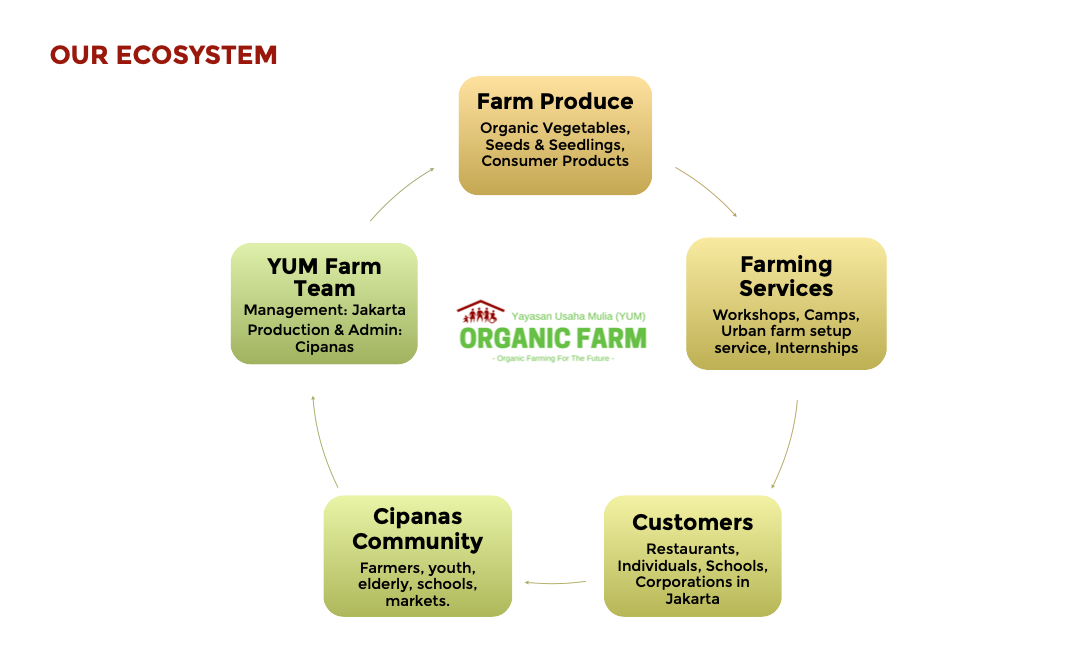 To obtain sustainability of the working system, tips of being a good leader was further discussed. Ivan explained some important things for a leader to pay attention to in order to reach the stage of awareness.
"We must be able to provide functions or benefits. What can we offer to our clients and our community? Can we properly empower and enlighten them with our resources? This must be thought through because the organization includes many people who have many differences and sometimes this causes conflicts," said Ivan.
Ivan also mentioned that several things should be underlined when talking about being mindful. He said that it is important to take a moment to rest and release the burden out of your mind. Therefore, in this session, Siska took this opportunity to teach participants a relaxation method that can easily be done every day at home or office called Silent Sitting or Mindfulness Exercise. Another practice is the three-breath pause or "Jeda Tiga Nafas".
At the end of the session, Vanessa also shared some of her stories to maintain awareness at YUM. Nothing can be done immediately, she stated, there is always a learning process and the strong ability to listen to other people is very necessary. A sensitive attitude towards workers who need assistance must also be slowly activated. Lastly, she asked all of the stakeholders around YUM and the social business to achieve the common purpose together while being open-minded so that everyone can be impacted fairly by the process and its result.