28 November 2022
PREVIOUS POST
NEXT POST
A personal account of the Cipanas earthquake relief efforts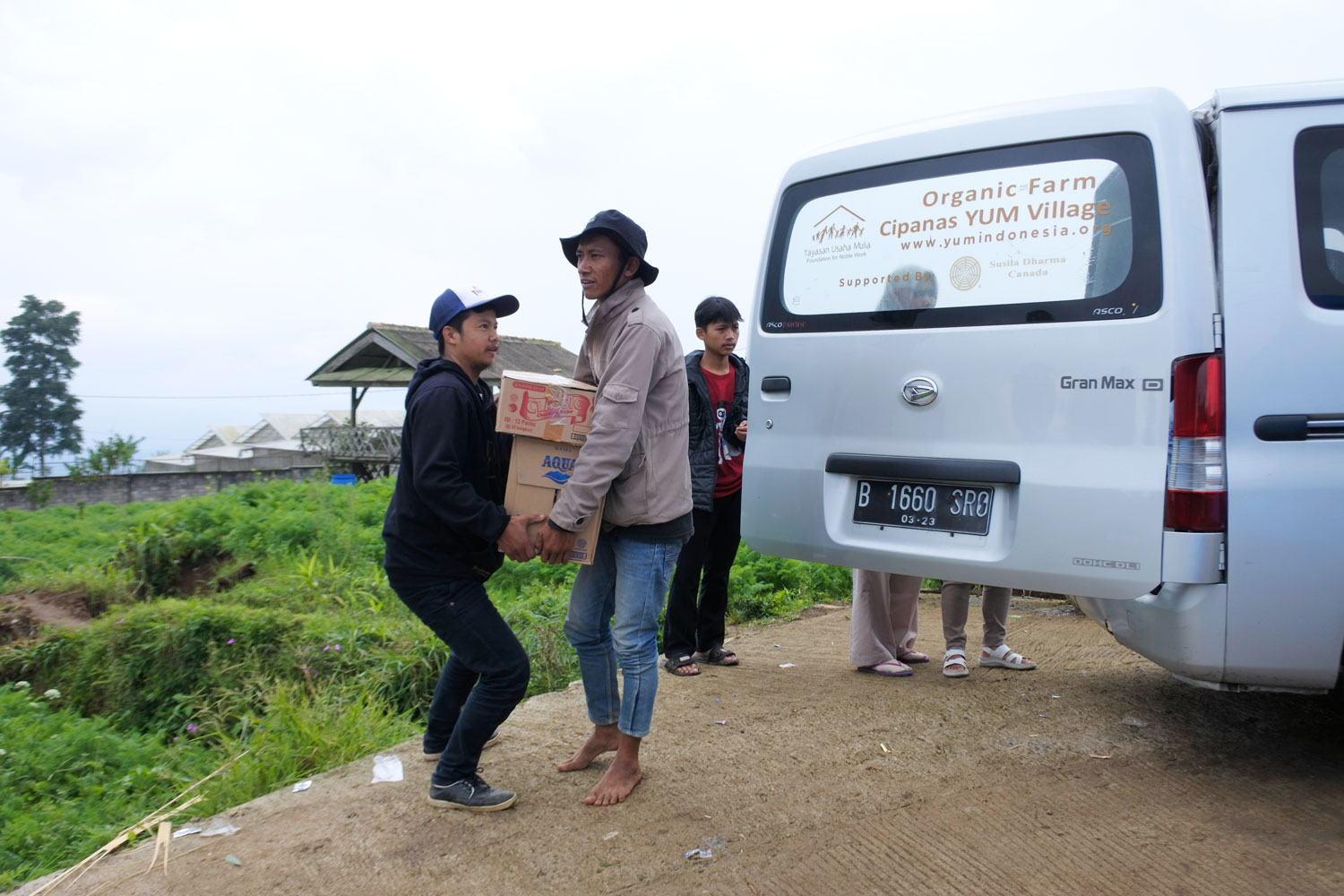 Preparation
My name is Uttama Pranaya and I'm the Fundraising and Communications Officer here at Yayasan Usaha Mulia (YUM). I wanted to share with you my personal experience distributing relief to those impacted by the Cianjur earthquake. Two sub-districts in which YUM is actively supporting - Sukaresmi and Pacet - were badly hit by the earthquake. YUM itself is situated in the sub-district of Sukaresmi.
Our morning starts with the YUM team packing the donations that have been received or bought with funds donated for this specific relief effort.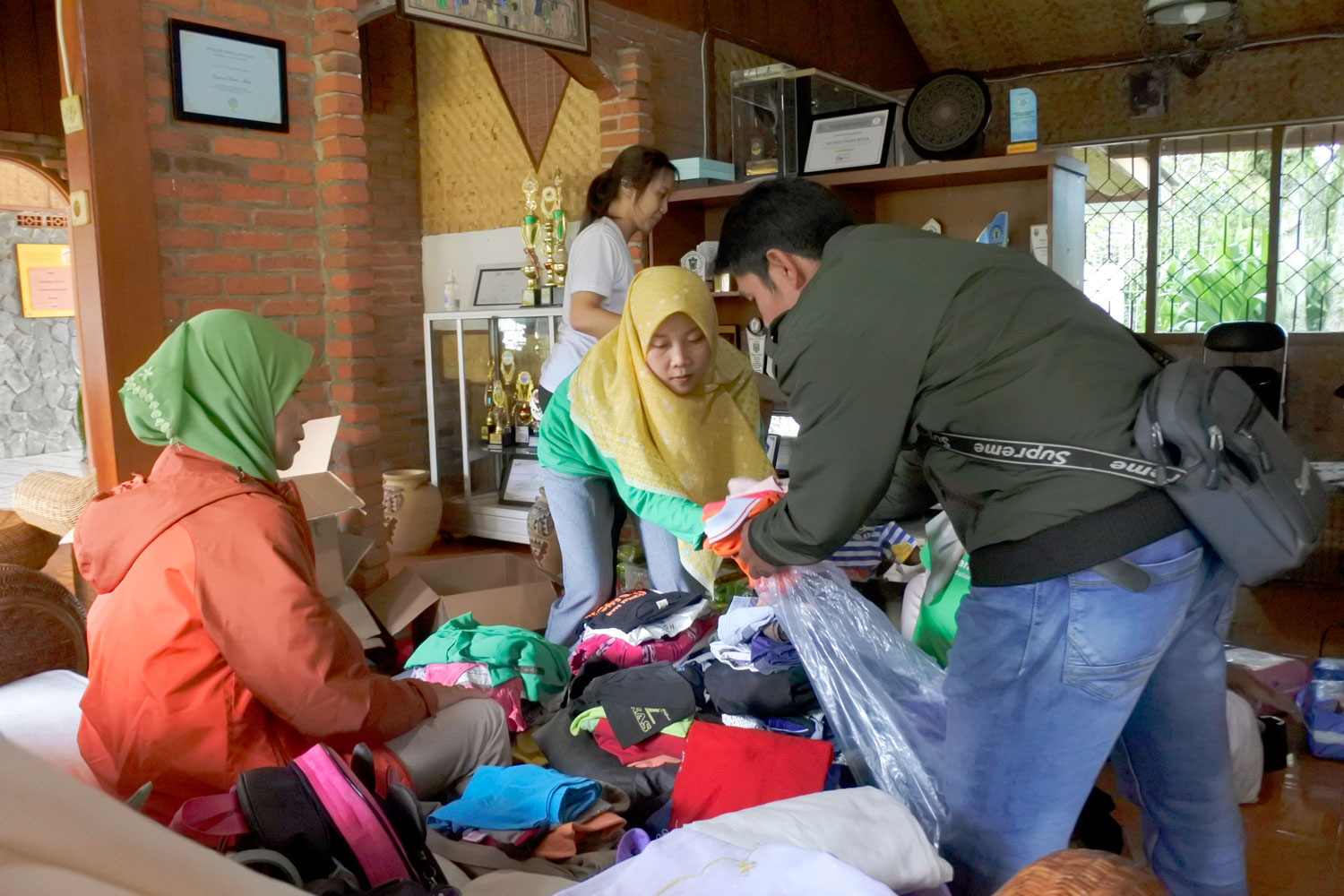 All the clothes, food, mineral water, rice, etc were divided into smaller packs to ensure each of the disaster relief posts that we were going to visit receives all the different types of donation that they might need. We then divided ourselves into two cars.
First relief post: Yadi's community at Sarongge Girang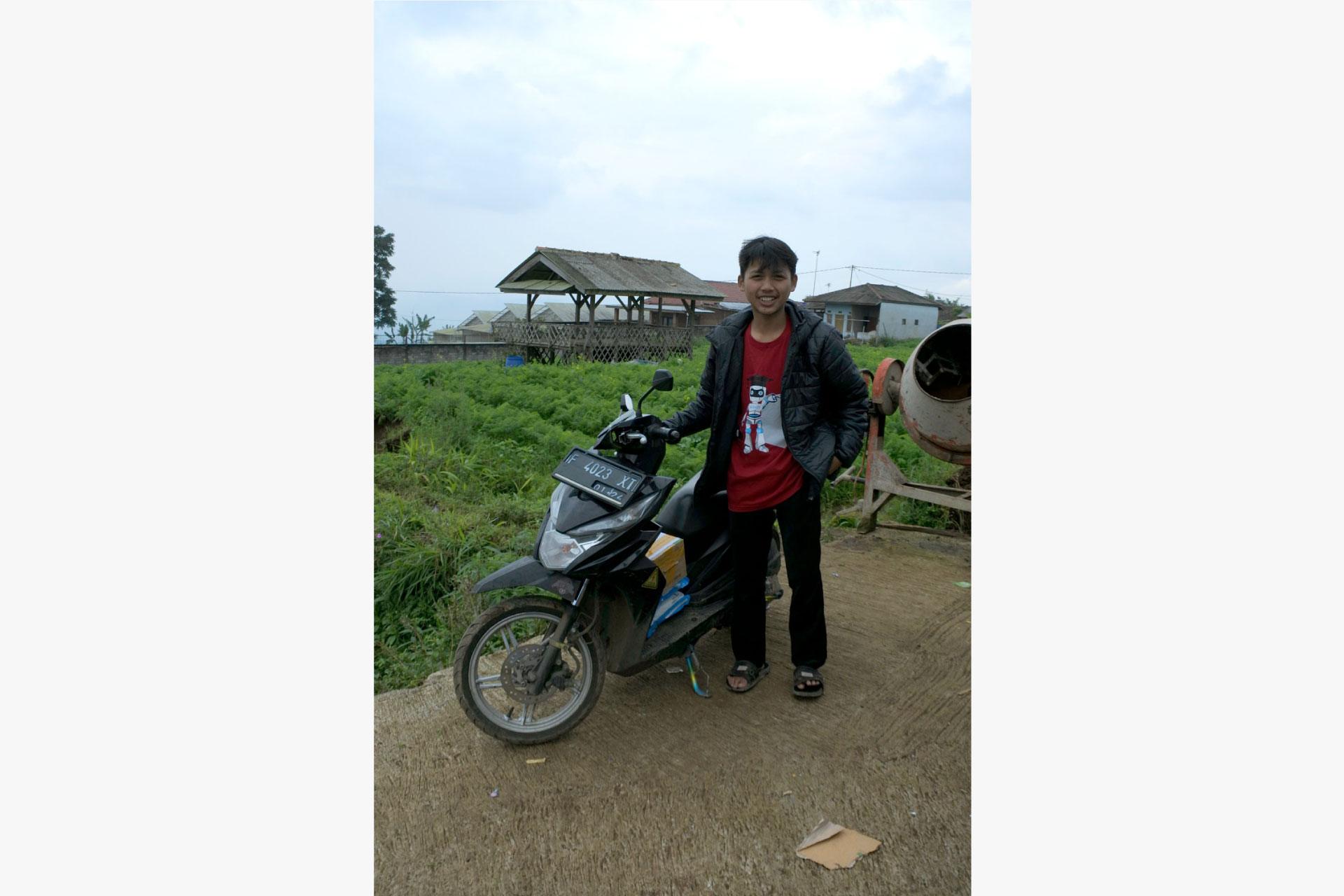 Yadi with his motorcycle, carrying one set of donations.
Our first point of contact was Yadi, one of the students in the area who did his internship at the YUM Organic Farm. He lives in the area called Sarongge, in the Pacet sub-district. Yadi took us to his house and his community where quite a number of people were affected by the earthquake. Most of their homes have suffered damages and they are currently seeking shelter in makeshift tents.
Second relief post: more communities at Sarongge Girang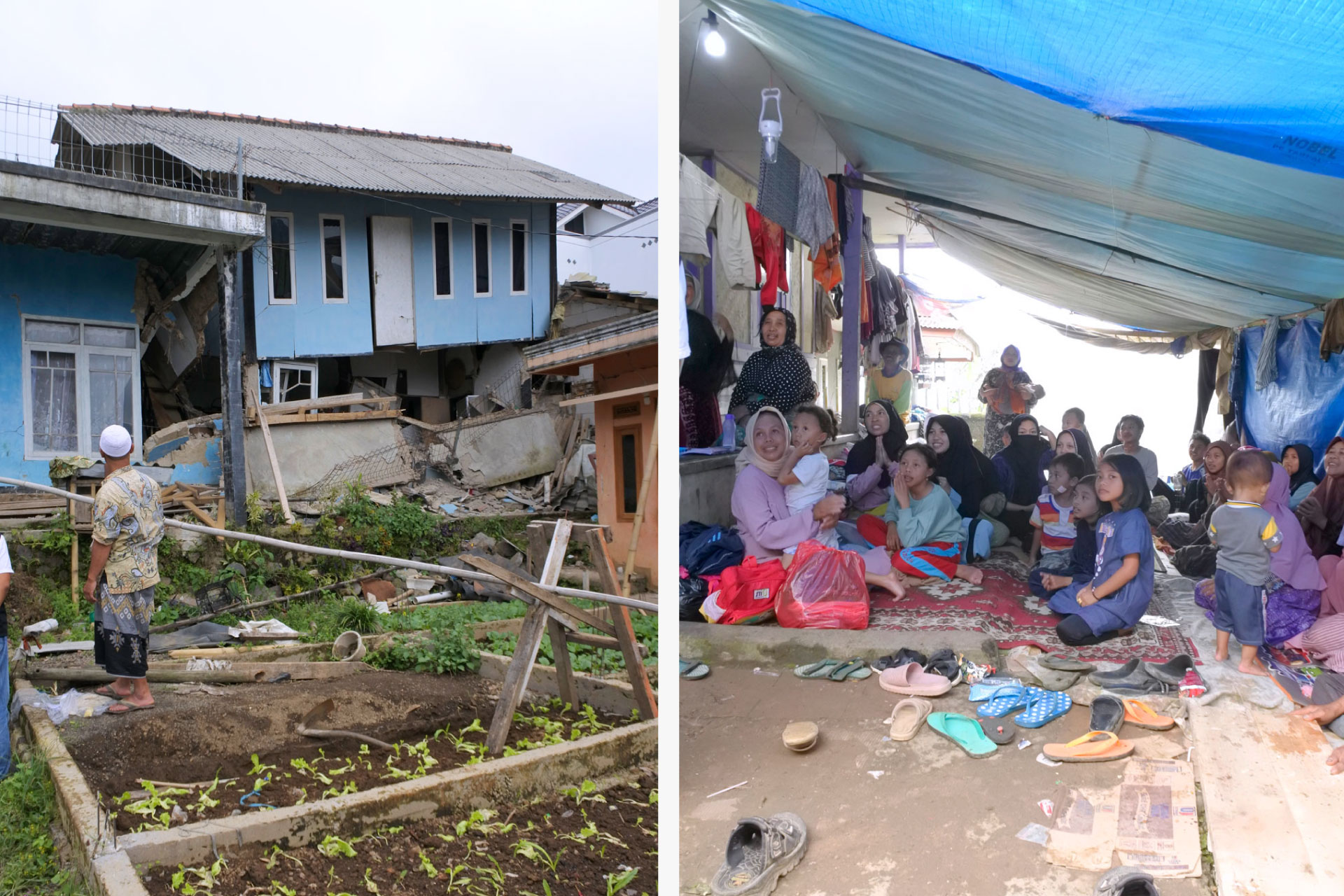 After dropping donations to the shelter nearest to Yadi's home, we followed Yadi to the next relief post which was not far from the first one.
The conditions were far from favorable, especially with the countless number of aftershocks that come without warning. The tents are made from a number of different materials; from tarps, plastic sheets for farming, and anything they can use for cover. While some of the residents are lucky enough to still have their home intact, most of them are not that lucky.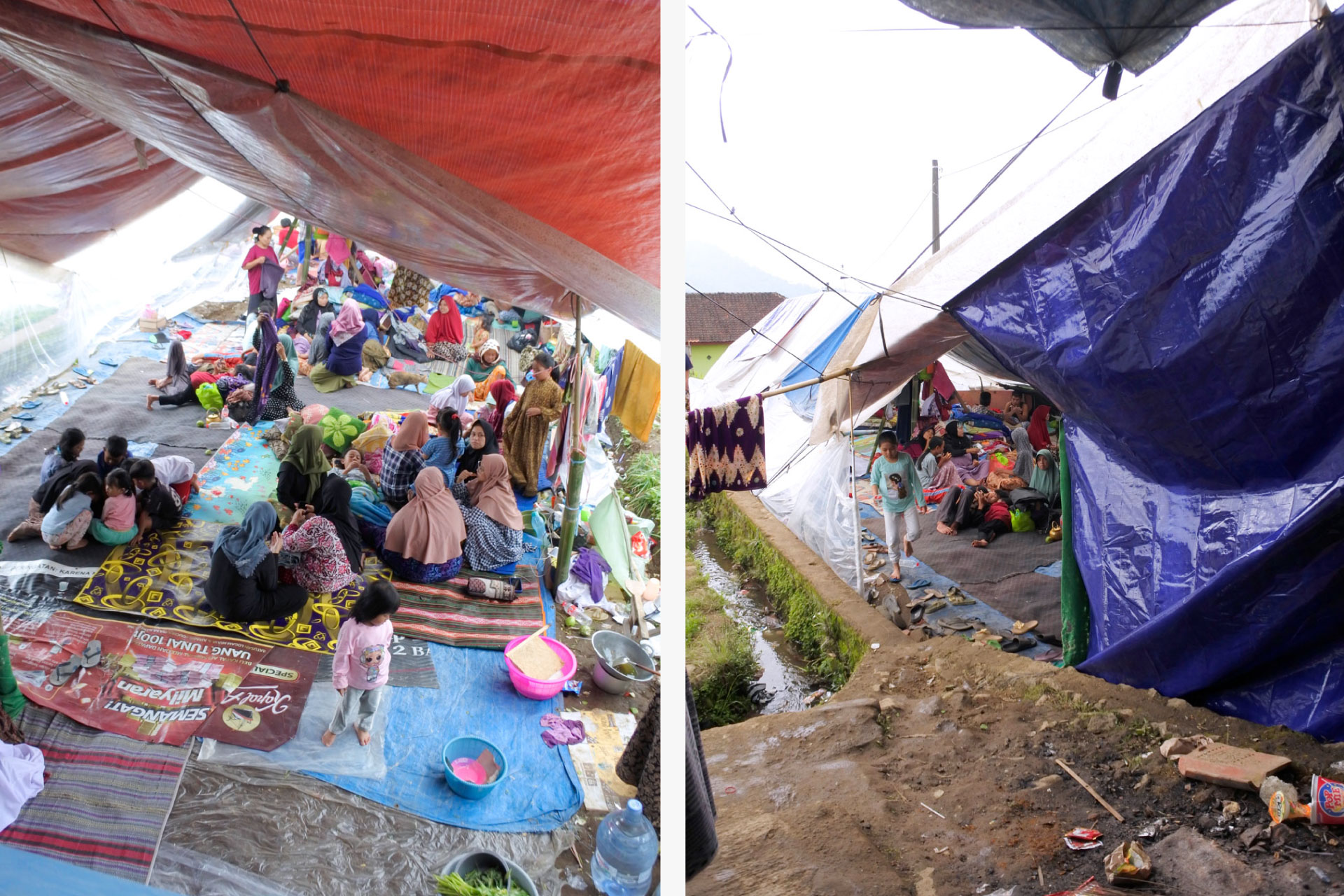 Third relief post: Sarongge Kidul
We then followed Yadi to the next relief post, going even deeper into the neighborhood of Sarongge until we arrived at a vast field of vegetable crops.
There, we were greeted by Pak Agis, the head of one of the neighborhood associations (RT) for Sarongge Kidul. Sarongge Kidul consists mostly of farmers. Their homes have suffered heavy damage due to the earthquake. They are currently taking shelter inside tents on the farm to be safe from the numerous aftershocks that are still happening in the area.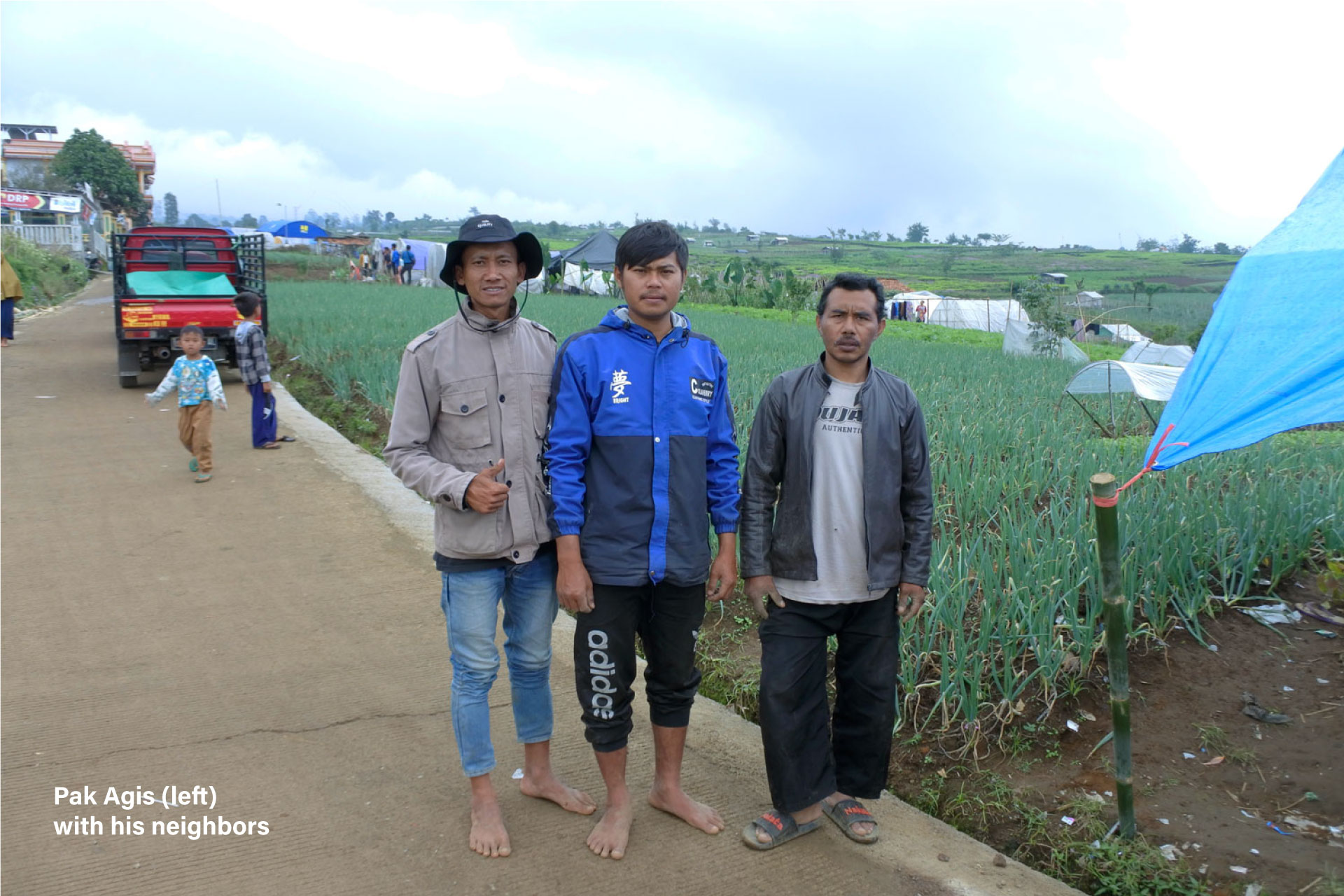 "Our tents were made from plastic covers that we usually use for our crops. Those were the only things we had that we could use to make the tents," said Pak Agis.
After two nights of sleeping with battery-fueled lamps, they are now installing cables from the nearest houses so that they have proper lighting at night.
The people are surviving with whatever they have. It is currently the rainy season in the Cianjur area and the weather gets cold at night. They share the only available, yet limited, clean water that comes from one of the nearby farms.
With generous donations from various donors, we were able to send help to farmers who were affected by the earthquake like Pak Agis and his neighbors. Sadly, there are still numerous communities who have not yet received support and there is no telling how long the aftermath of the earthquake will last.
A conversation with two women Community Leaders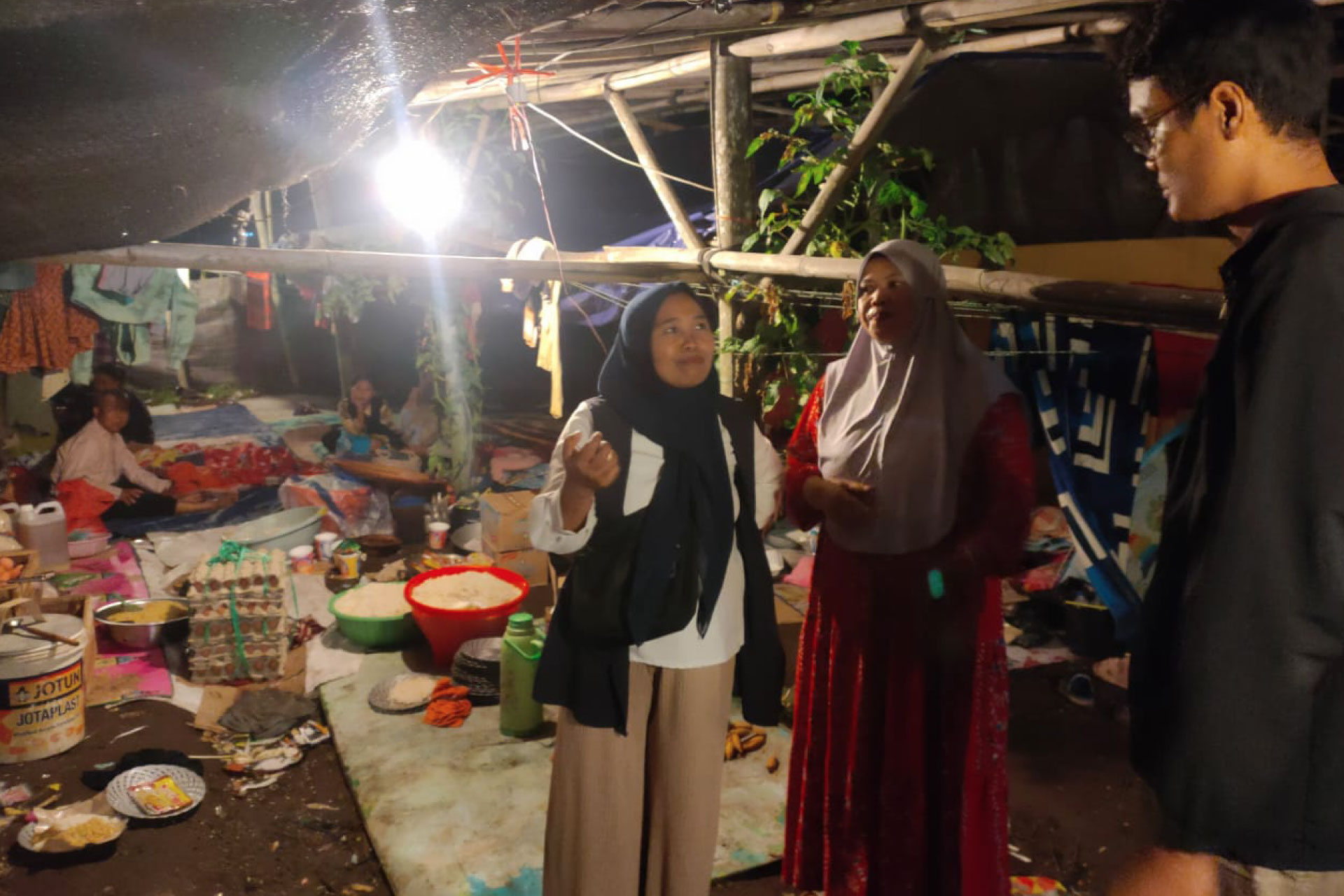 YUM has worked with more than 40 Integrated Health Posts ( Posyandu) over the past 15 years and through our Stunting Prevention program, we have identified several women community leaders.
After we finished the day's distribution, I decided to talk to two women community leaders who live not far from YUM's community center. After going through a narrow road fit only for motorcycles, we arrived slightly before 7PM at the relief post. There, we met with Ibu Yeni and Ibu Ati. As we arrived after sundown, we couldn't precisely see the size of the whole shelter, but as we walked together, we saw that there were many tents. The community leaders told us that in total, there are approximately 500 people in the shelter.
This shelter in particular was initially a flower farm. Since the flower farms already have covers, they made the best of it and added more covers from tarps to make the shelters more liveable. However, since it was initially for flowers, the top covers are leaky and they need more tarps to make it safe for people to live in case of rain.
With two Posyandus in the area, there are naturally many mothers with babies and toddlers. The most pressing needs for them are: milk for the babies, pampers, groceries, ready-to-eat food like biscuits, sanitary napkins, and gas for cooking. Thankfully, there is a midwife living in this area so they are well supported for health-checkups and medical needs.
Like most relief posts, they are making the best of whatever they can use. Most of the houses in the area were affected by the earthquake. A few of the houses were completely destroyed.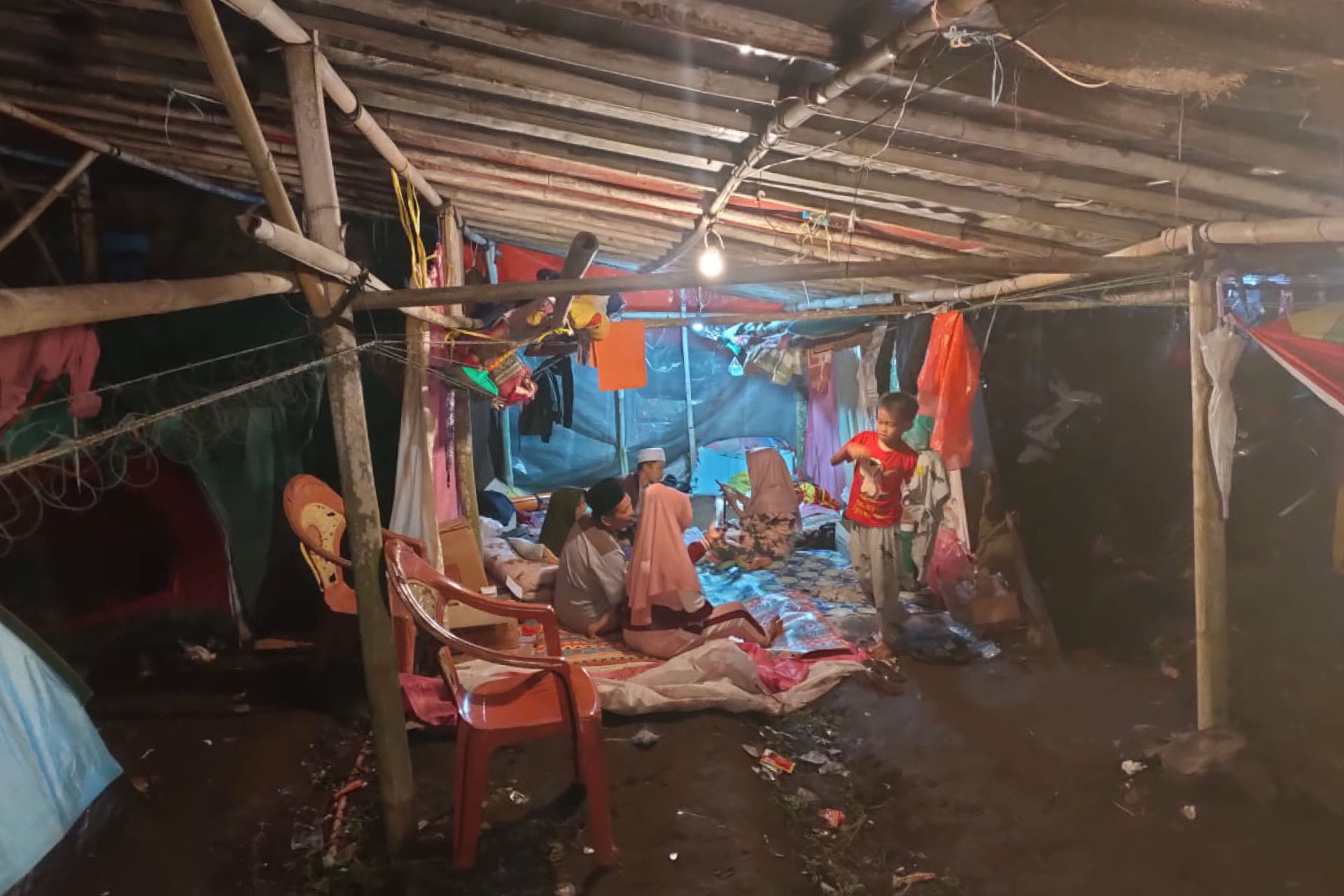 I hope to update you again soon as we have many more families waiting for support. In the meantime, a big thank you to all those who have sent us in-kind donations as well as funds.
From Cipanas with care,
Naya